Miss Vivian has a new fun hobby… ass and pussy pop fetish phone sex! Cherry, watermelon, apple, grape, it's all tasty, baby! If you're into tasting and smelling used, wet panties, you're going to absolutely love my pussy pop fetish phone sex. If you call me you can hear exactly how I make these suckers. I just love sharing this experience. I need to cum all over these candies to get them nice and wet. I'll twist them around in my pussy for you, and then you can taste my unique flavor. I like to share these dirty experiences with you when I'm home alone.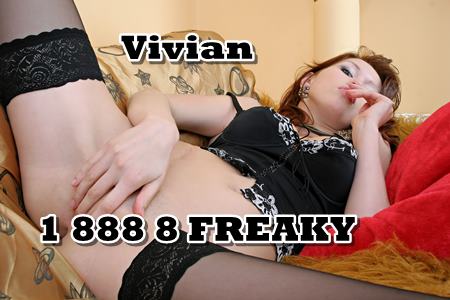 How about some juicy ass pops? My tight ass is perfect for popping out these tasty suckers. Cherry, watermelon, apple, grape, it's all tasty, baby! If you have a specific type of sucker in mind, just call me and let me know. There is a candy jar in my home where I keep my chocolates and sweets. Before last week I had never tried pussy pop phone sex, but I'm hooked on it now. I had a caller suggest it to me when he found out about my candy jar. And now, I don't want anything else! I just want to rub these lollipops all over my clit and get them nice and juicy by sliding them in and out of my pussy. Will you help this candy factory get turned on? I can't do this alone, so I'll need you're help. Give me instructions and tell me what to do with this sucker!
Do you want to taste my goodies? Calling me is a great way to help me get this job done. To hear more about how I make these tasty treats, call 1 888 8 FREAKY for some pussy pop fetish phone sex with Vivian.
You can now find me on Twitter: VivianBellaVixx
You can also email me here: vixenvivian4u@gmail.com
Talk to you soon! Kisses, Vivian Bella Vixx