I can't even begin to tell you all how often I get strap on phone sex calls these days. It's like all of a sudden men have realized that they actually like getting fucked by a hot woman with a hard, rubber cock! Why wouldn't you like it? I mean, your asses were built for pleasure, weren't they? You hear about the elusive G spot in women all the time. Well, it turns out men get physical pleasure from penetration, just like they have their own G spot. The bonus is you've also realized that it's ok to relax and get used like a little slut. Yup, I went there.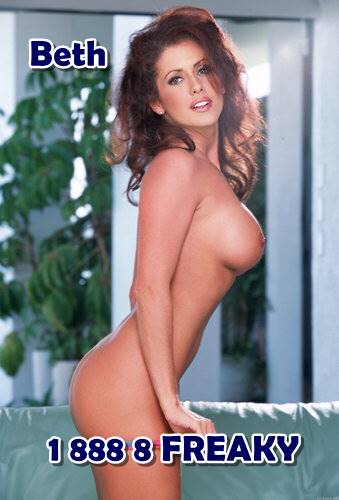 You know it's true. It's your turn to be called a little bitch, and to be told when to suck it and when to bend over. The tables are turning, and the best part is my cock stays hard so I can fuck you as long as I want to fuck you! You can't say that about your cock, can you? Strap on phone sex with Miss Beth isn't just about getting pegged, but also about being reminded of why you're the one on the bottom. A lot of little man-bitches seem to like it too.
Make sure you have a toy with you if you want the best strap on phone fuck you can get. You should be able to really feel me fuck you, don't you think? I love playing with toys, even if I have to tell you what to do with them because I can't be there. I want you to get the ass-reaming your hungry hole deserves.
You know you want it, so indulge the hunger that calls from deep within your fuck hole. Call 1 888 8 FREAKY and ask for Miss Beth for strap on phone sex that will leave you used, stretched, and drained!