I LOVE dirty phone sex! No bullshit right? I like a nice fat cock in my tight ass. There is no need to take it easy with my hole, just spit on the tip of that hard cock and shove it in. I love to feel my hole being stretched to its breaking point. And I still want more. I even image what two at once would feel like and I can't wait to try it. Sometimes I fantasize about having a cock so deep in my ass that I cream out of my pussy. I'm dripping at the thought of it.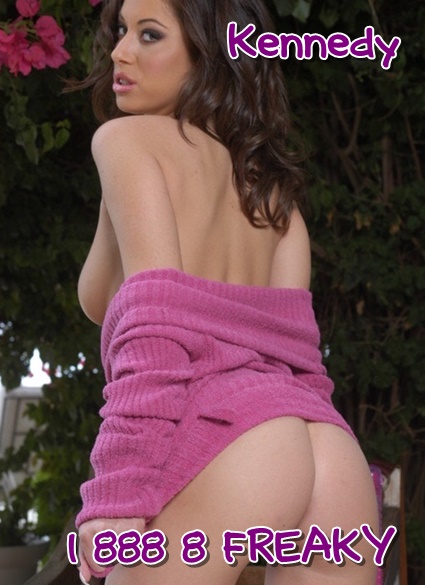 I mean, I love nothing more than to have my face buried in the pillows and my ass up in the air ready for the fucking of a lifetime. I want to be able to feel every inch of that throbbing cock in my hole. I just want to be filled up with cum and for it to pour out of me once you've finished. And as soon as that cock comes out of my ass I want it put straight into my dirty mouth like the nasty slut I am.
And let's not get me started with toys. I love my tight little asshole to be plugged with beads and then having them pulled out – one by one. Or fucked with a dildo so you can admire just how much my tight little hole can handle. I even love if you want to fuck my pussy with your cock while I have beads or the dildo in my ass. My favorite orgasms come from anal play, and I cum so hard. I want you to call me and tell me what you would do to my ass and how hard you would fuck it. The harder the better! We are waiting.
1 888 8 FREAKY and ask for Kennedy for dirty phone sex