Look at me, all woman, red pouty lips, long black hair, the sexiest legs you've seen in a long time, a tight round ass, and big fucking tits. All that and something extra; an eight inch hard throbbing cock. All woman and and more. A Sexy Shemale Phone Sex Goddess to make your fantasies cum true. I don't care if you're an experienced cock sucking bitch or a wannabe wanker, we're going to have some fun. I'm Dominant, I love to tell you what to do and turn you into my hungry and willing slut slave.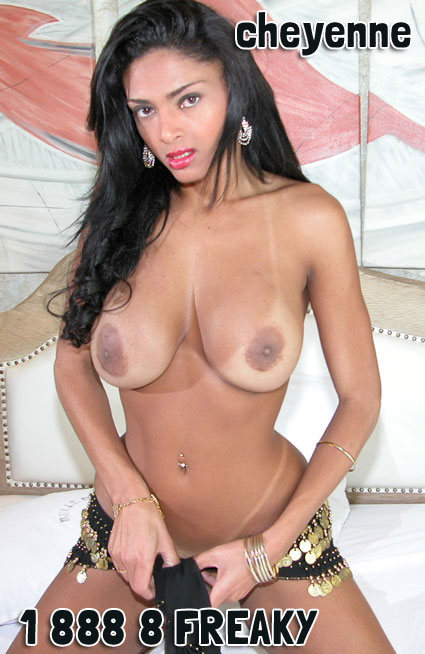 Shemale Phone Sex Roleplay
Just imagine sitting at the bar, looking at my long shapely legs, my shoe dangling off my perfectly arched foot. Maybe you have a foot fetish too, and that is more than okay with me. It was no accident I dropped something on the floor and asked you to get down and pick it up. Oh, and while you're down there, kiss my pretty toes too. Be a good boy and later you will be kissing my hard tranny cock. My legs are so sexy and I love stockings and garters to tease you with. Just wait until we get home and I make you put them on too. Did that just make your little dick all hard? Even better.
How about taboo shemale phone sex? What's that? I know it's always a shock when guys find out Mommy had a cock, but it makes a lot of sense when you think back on things. She saw something special in you too, and that's why when you came home from school, there were panties and stockings and pretty dresses laid out for you. I hope your balls are twitching and aching just thinking of all the naughty and pervy taboo things I'm going to do.There is nothing I like better than popping your cherry ass.
Call Cheyenne at 1-888-837-3259