Hey hon! Can I tell you about a dream I had? I must confess, you were in it. I had the most sexy supernatural phone sex dream last night, and you were the star. I just have to tell you about it.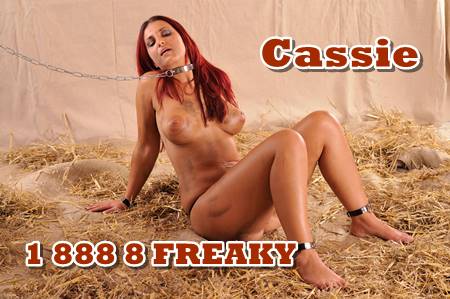 The dream started in a dark, wooden cabin. There was a green, eerie light coming from the cauldron in the center of the room. The fire underneath was low, cast flickering showers across the walls. I was dressed in a tight, black bodice with a flowing, jagged-edged skirt. I was barefoot. The cool air caressed my skin, and I knew I wasn't wearing panties. I was dancing around the cauldron, throwing herbs and other ingredients in from glass jars on shelves along the walls. I would reach up, grab one, and toss the contents in. Occasionally, I would stir the bubbling liquid.
I heard a low clanking in the corner, and turned to see you, crouched, naked, chained. You huddled in the corner, shrinking from the light. I cackled, and you whimpered. I danced over to caress your shoulder, and you begged me not to hurt you. Begged me to unchain you, to let you go. Then I went back to my potion.
Once my potion was finished, I poured some into a bottle. Then I crouched down in front of you. You tried to resist, but I overpowered you, grabbed a fistful of your hair, and forced open your mouth. I poured the potion into your mouth and down your throat. You passed out. I unchained you.
When you came to, I was seated at my desk, making notes. You crawled over to me on your hands and knees and started kissing my feet. You started calling me your mistress, your queen. You were my slave, and would do anything I asked.
I stood. Slowly, I untied my skirt and let it slide to the floor. You looked up at me with such adoration in your eyes. I smiled down at you as I slowly started on the laces of my bodice.
Do you want to know what happened next, hon? Give me a call at 1 888 8 FREAKY for supernatural phone sex and ask for your lovely witch, Cassie.
Twitter: @cassiePierced
Email: piercedcassie@yahoo.com