Hello boys and men. I'm your newest supernatural phone sex addiction. I'll play you slow and sweet, just until you're ready to break. Oh oh, it's so fucking beautiful watching a man crumble in my hands. I'm a sizzling hot blonde with baleful blue eyes. I'm a maneater. I'll hurt and destroy you, but the highs and lows are just too much for you to resist. You're my weak little play thing. And trust that I adore pulling your strings; watching you squirm. I am one of the most delightfully depraved puppet masters around.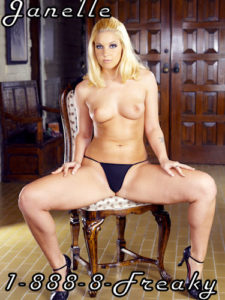 You should know a little bit more about your supernatural phone sex villainess. When I was in elementary school, I played the clarinet. It was boring and my reed always tasted like peanut butter. Probably from the sandwiches my father packed for lunch. It wasn't until middle school that I found a new way to make sweet music: playing with boy's hearts. I've always gotten everything I wanted. From a very young age, I had my daddy wrapped around my little finger. So I've had plenty of practice toying with the inferior sex. As soon as I realized that my feminine guile could be used on anyone with a penis, I gave up the clarinet and started controlling horny losers like you.
Sure, over-the-top fantasies are fun. I love them all and even the supernatural phone sex usuals like: A sexy psychotic succubus who just can't get enough from draining your energy and your bank account. How about a mermaid who isn't stupid enough to sell her voice but instead guides a man to his doom. Vicious blood-crazed vampiress who just can't wait to sink her teeth into you. What about a supremely evil female super-villain who is so deliciously evil just because she wants to be? Oh, we could have a lot of fun in the land of supernatural phone sex.
Give me a call. 1-888-8-FREAKY and ask for Domme Janelle.