Mmm hey, you. I haven't seen you around here before. I always come to the local bar on Saturday nights to meet up with some of my girlfriends so we can dance, have a few drinks, and have a good time. I don't think I have seen your face before. Do you like my outfit? I would say that you do judging from that bulge that is forming in your jeans and the way your sexy eyes keep scanning up and down my tight, fit body. I can't help but notice the way your mouth waters when you look at my pouty, pink lips baby. I bet you'd love to know what this hot, wet mouth feels like wrapped around your rock hard cock, wouldn't you? Well, that's why I'm here with a cock sucking phone sex roleplay for you.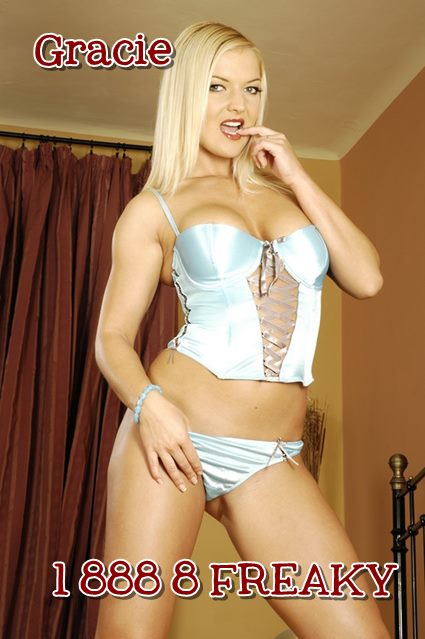 Let's go somewhere a bit more private so that you and I can get to know each other better. I lead you by the hand to the back room of the club, where we slip into what looks like the maintenance area. Nobody will be back here for some time, as the club doesn't close for three more hours. As we enter the room we immediately shut the door and I push you back against it. I seductively undo the clasp of your belt, smiling large at the enormous bulge that is waiting for me directly underneath. I expose your throbbing cock, waiting for me to pleasure it in all the ways that I can during out cock sucking phone sex session together.
This no taboos girl is looking for all sorts of kinky fun to get into, and I would love for you to be the one to join me. So what are you waiting for? Pick up that phone and call me, Gracie at 1-888-8-FREAKY for all your cock sucking phone sex fantasies now!
Blackberry Messenger: GBabyx0
Twitter: seductivegracie
Tumblr: missgraciemadison