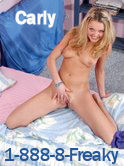 Most everyone knows that I loooove playing in my room. I have it set up with everything that a girl and a special guy could need while exploring each other…lots of pillows, candles, toys…gotta have my special dildo! and lingerie…for both of us if the mood strikes.
What I don't have is my own place…there is a separate entrance to my room for visitors, but my parents room is right down the hall.
You see, I'm just 18 and in high school and have to indulge my never ending need for cock somehow!
One night, I was taking a big 10.5 inch cock especially hard. Zak had me bent over my vanity chair and was fucking me so hard my whole body was shaking! I could barely fit him in me, it was all I could do to keep from screaming.
I'm always worried that my stepdad will hear me moan or cry out and come to investigate…it is so hard to take a good pounding without really letting out any sounds of ecstasy..Especially when my pussy, ass or open mouth is being ravaged!
I'd love for you to call and make me forget how quiet I need to be….