THUD! CRASH! BOOM! THUD!!!!!!!!!
People scatter in all directions, running for their lives, trying to get away as fast as they can…
THUD! BOOM! THUDDD!!!!!!!!!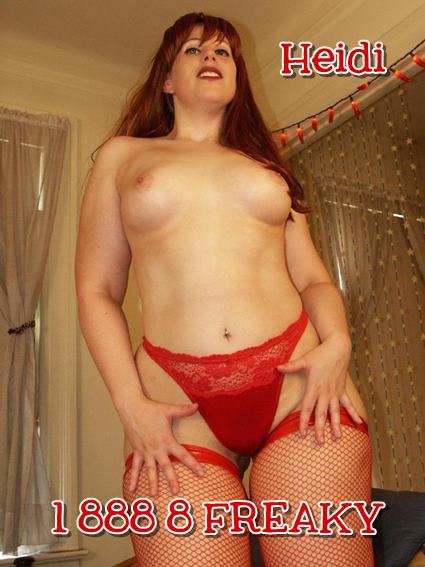 The ground shakes and the trees part, and standing there is a 40 foot woman with long red hair, big blue eyes, and the thickest legs and ass ever seen on this planet!
Captivated yet? If you're into giantess phone sex, then you should be! Sure, all those thin chicks can talk a good game, but look at my pear shaped body! How fucking cool would giantess phone sex be if you did it with a body like mine? These thick, heavy legs are way more intimidating when they come down hard on the ground, causing tremors for miles around. This big, plump ass of mine is gonna shake and bounce only the way a fat ass can shake and bounce, only on a super huge scale! Just picture it – every time one of my feet comes down and the earth goes "THUD!!!,' my big ass and legs shake and jiggle with each stomp, giving a really cool visual aide to match the sound of the ground tremors!
Those little people had better beware! I'm not the type to let anything get in my way, and really – what the fuck are they going to do about it? They're tiny and can be squashed like bugs, as far as I'm concerned! The only use they could possibly serve me at this point is either a snack or a fuck toy, but there are so many of them I don't have to be careful! I'm gonna crash my way through until I reach my destination – a giantess phone sex session with you!
So listen up, dude – the fate of those little fuckers is in your hands! Dial 1 888 8 FREAKY and ask for Heidi for some awesome giantess phone sex tonight!
Twitter: @hotnheavyheidi
Tumblr: hotnheavyheidi