My name is Shay and I'm going to be your number one go-to for bratty phone sex! Cum on say it loud and say it proud! I'm a total brat in person and a phone sex brat too. But I know you will love every minute with me. I'm a beautiful, young, horny, and playful brat. I guess some would call me a cock tease as well. Normally a smile and body language is all it takes but now having to wear masks my sexy devilish smile is hidden so I'm learning how to use my eyes. For example the other day at the craft store. I was looking through some card stock on the bottom shelf and noticed a couple in the same aisle.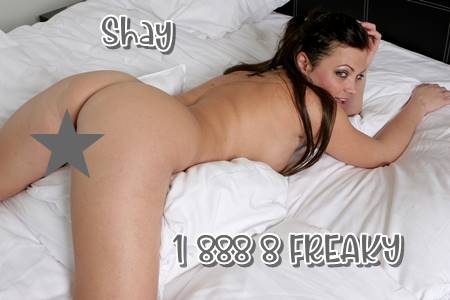 I saw him checking me out and looking me up and down even when his girl is right there with him. I wanted glitter paper on the bottom row and bent over at my hips fully knowing my short skirt would ride up and show him my lace thong. I heard him let out a soft gasp! Yes, we girls can hear those little sounds you make, I looked over my shoulder and winked at him. I walked off to the fabric area and sure enough, he followed me like a lost country puppy dog. I would tease him all over the large fabric dept bending over so he could see down my v neck t-shirt. I even found a corner of the store where no one was and made sure he saw me reach down the front of my skirt. And I found a bolt of fabric I just had to have and bent again with him behind me. Let me tell you there was a huge stiff mass in his jeans when I turned around. Maybe that was because I had to slide my panties over so when I bent over my sweet tempting pussy was wanting to be seen!
Now If there was no chance his wife, girl, the flavor of the week could walk upon us in the abandoned corner of the store I would have let me fuck me from behind as I bent over at the waist and grab my ankles for him. No one would have seen me behind the aisles of fabric since there about 5 feet tall. It could have been kinky it could have been amazing. But I did come home and turned on my phone and ended up with some bratty phone sex and I came so very hard.
Want to have some bratty phone sex with me? I bet you can't wait to talk with me. Call me at 1 888 8 FREAKY and ask for Shay!
Twitter: @ShayBunn
Email me on Gmail: Rockandrollfantasys