Hey hon! I have an bone to pick with you. You called me the other day, and you weren't as submissive as I'd like. I hate to be a bratty domme, but, well, no I really don't. It's my way or the high way during our bratty domme phone sex calls, and if you don't do exactly what I say, this bratty bitch will make your life miserable.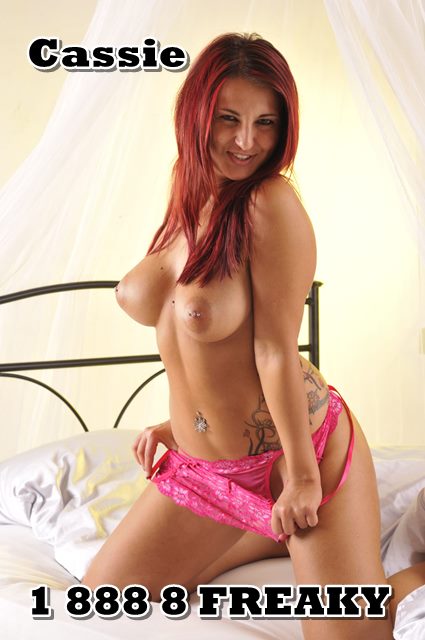 Even the best laid slut gets bored every once in a while, and I just love bossing guys around. There's no telling what I might have you do for me. My floors always need scrubbing with a toothbrush, and I just love watching you down on your knees, your cock and balls hanging between your legs. Bouncing as you scrub my floors. Oh, did I forget to mention you'll be doing this all naked? Hmm, just the thought of it is making me a bit wet. Does knowing I'm staring at your limp cock make it start to swell and harden? Well, it'll be a long time before you find the release you crave, but I'll be certain to orgasm multiple times during this call. Because I'm the brat, and I'm the boss, and you have to do what I say, okay?
Or maybe I'll have you clean my favorite place: my bath tub. And you'd better not just toss all my toys into a basket, but place them lovingly. Those toys have done things you might never get to do if you don't please me. If you need me to tell you how pathetic you are while you're down on your hands and knees, I'll be glad to. Maybe once everything is spotless just like I want them, only then will I let you crawl in between my legs and worship this pussy of mine. No touching your cock though while you lave at my hidden lips, only I get to decide just when you get to feel pleasure. Make sure you suck me off good, I want to orgasm at least three times before you get your own petite morte.
Because after all, if you call this bratty domme, you are wanting to be bullied and mortified, and it will be my pleasure to do just that. Give me a call at 1-888-8-FREAKY for some bratty phone sex today!
Twitter: @CassiePierced
Email: piercedcassie@yahoo.com