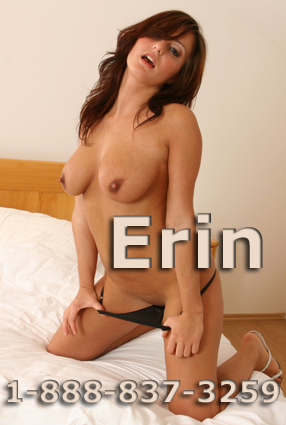 Hey guys! I am Erin and I love panties and I love guys who call me for panty fetish phone sex. What could be sexier than silky and satiny panties rubbing against my ass all day turning me on? You getting turned on watching my sexy ass in panties, that's what is sexier! I love being at a part where we slow dance and I can feel your hands rubbing my skirt or dress over my satiny panty covered derriere. We both know that little cotton panty crotch is already moist with my juices proving how turned I am. When I grind my hips into your cock, for the first time I feel how hard you are. I whisper in your ear that my panties are wet and a minute later you are dragging me out the door!
Are you a panty thief? I've had a few panty thieves who stop at nothing to steal my panties. I have caught guys going thru my dirty clothes pile while I was making them dinner;  I caught a pervy old man stealing my panties and my bras at the laundromat down the street; and I once caught the married guy next door sniffing my panties I left on the bathroom floor. Fun times for sure. If you're caught with my sexy panties I might make you sniff them, put them on, show me how you jerk off in them or spank you for being a naughty panty slut. I got the married guy next door to take me shopping for more panties and sexy lingerie when I threatened to tell his wife. I even make him buy panties for himself and let him model them for me while he masturbated in them while I sat on his face and let me eat my pussy and ass right thru those panties.
For all your panty fetish phone sex fantasies you need a girl who loves panties as much as you do! call Erin at 1-888-837-3259.
yahoo sexyerotic.erin
aim SexyEroticErin