Hi, there! Its your phone sex goddess Chocolate here. I'm ready to let you worship and pamper me because I deserve to be treated very well. You want to cater to my every need and I'm more than willing to let you. Tell me I'm beautiful and sexy before you say in our next phone sex session that you are imagining yourself kissing my lips passionately. In order to get me going so I'm ready for the bedroom, I need you to take your time doing a few things. Run your fingers through my hair, rub your hands all over my back, grab my soft, petite yet plump fit ass, and work your way down to my crotch area as you rub your hand on my print that's showing from underneath my skinny leg jeans. At this point, I bet you will be dying for this cock to fuck you.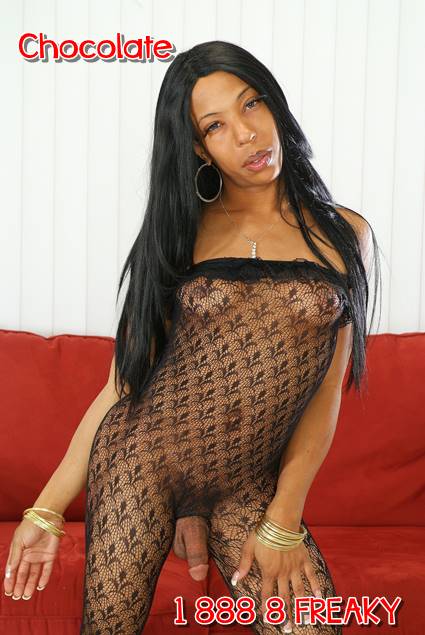 I'll fuck either hole of yours you want if you can handle this ten inch chocolate bar. My cock will entice you to get on your knees and suck me good. Make me bust in your mouth so you feel my cum shoot into the back of your throat. Swallow my cum like the good, naughty boy slut that you are. Afterward, I'll tell you to give me a full body massage so your phone sex goddess can relax. This will lead to my big black dick getting rock hard again for you. Focus on my neck, shoulders and back to work out the tenseness so I'll be feeling the best I can be to pound that tight ass. Once my cock gets stiff, you'll get on all fours so I can stick it in that man pussy of yours. I can thrust it slow or fast in your sweet asshole so you just let me know how you want it.
I'll spank your booty cheeks with my hands, grab both sides of your waist and reach around to jack off your cock. You will have multiple p-spot orgasms and one orgasm from your dick being stroked. Once I sense that your body is weak from the pleasure, I'll leave you a nice load in your ass as my gift to you. Once we both cool down and get ourselves back together, you suggest taking me shopping for the hottest clothes and shoes and out to a restaurant of my choice. In order to let your phone sex goddess know you need her and that she is worth the entire world to you, you don't mind spending some money on me. After giving you the best man pussy pounding of your life, you want to see me smile.
Dial 1-888-8-FREAKY and ask for me, Chocolate, your phone sex goddess. I'm waiting to talk to you so you can serve me.
Twitter: @ChocolateRP1
Email: chocolatehottie4ever25@aol.com