If you're a well-behaved man, this femdom phone sex blog is not for you. Now that we have that out of the way, It's time to take care of you disgusting, cum-starved faggots that I'm going to use to your every limit. Are you an expert dick sucker? Can you deep throat any cock any time? I'll know if you're lying. I can sniff out a lying bitch like a fart in a car. If you try and deceive me, I will pummel your ass into the next decade. When it's over, and I'm finished making use of your slutty throat, you'll be hoarse for days. It doesn't matter, though, does it, cum bucket? No, what matters is that your perfect femdom Queen Toni is having a well deserved good time at your expense. You're simply a rotten piggy fuck hole with a pulse. I'll put you to harsh use.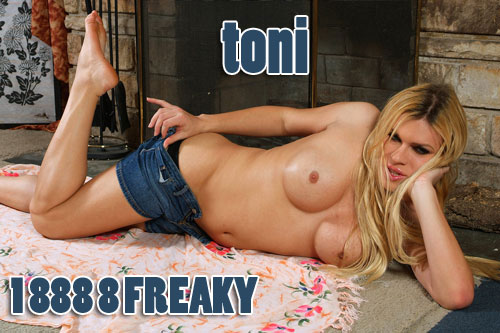 This pretty perfect T-Girl Queen is going to straight-up run your pathetic ass, and you will thank me for it. Some of you dirty guys call me for femdom phone sex, but then you want to top this Queen. That's a no for you, ho. I'm going to give your bitch ass something that you won't soon forget. You call me and get a sexy blonde T-girl that practically thrives on male tears and crushed egos under her spiked heel. I'm not going to bend for a bottom. So if you think that you're raunchy enough to keep me company, I suggest you look over my gorgeous shots on the site. You'll be itching to get with me and to have me take you apart one insult, spank, or thrust at a time. I'll own your mind, cock, and ass as your enchanting T-Girl phone Mistress. Care to kneel, boy?
1 888 8 FREAKY and ask to talk to Toni for femdom phone sex.