Before I begin talking here about what I will and won't do when it comes to sissy training phone sex, let's get one thing straight, sweetheart. There's no such thing as good training if the trainee isn't willing to commit to being trained. Don't waste my time if you're not serious about becoming a sweet sissy slut, because I don't do anything half assed, and I don't expect you to either. You're going to do it ALL THE WAY, sunshine, so if that's what you really want, and if you're ready for it, then Miss Beth is the one you want to call so you can blossom into the sex kitten we both know is dying to scratch her way out of your sad excuse for a man's body.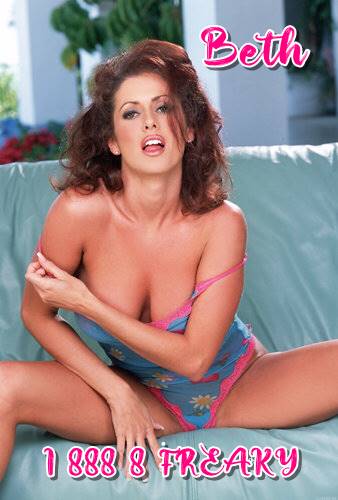 Yes, you read that right. Sissy training phone sex with Miss Beth can be and should be an ongoing thing. This takes time – it's a process and it doesn't happen overnight. We need to discuss your personal grooming habits. We need to pick out some sissy things for you to wear, everything from lingerie to clothing, wigs to makeup, and maybe even some slutty accessories that scream "use me" to all the cocks in your vicinity. Sissy training phone sex with Miss Beth goes much further than that. If you're a good little sissy slut and do as Miss Beth tells you, then maybe I'll even help you with your cock sucking skills. I know you want to be the best you can be at slurping on a hard dick, and that you're constantly hungry for hot cum down your throat. I have faith that if you do this right and listen to what I tell you, you will have the cock sucking skills that will have them cumming back for more. You do want that, don't you?
If constant cock down your sissy throat is what you crave, then call Miss Beth at 1 888 8 FREAKY and be prepared to work it, gurl!!