Oh, how fucking great it is to be back in the spanking phone sex saddle again! Life has made it hard to go to all the naughtiest, kinkiest places lately, but I recently managed to find myself at a couple of kink dungeons and I made sure to have an ass-slapping good time!!
My best girlfriend and I decided to blow off some steam and visit a couple of dungeons. She's a switch, and is fairly new at taking the top, but the first night we went out she had her fun. There was a naughty sissy and it was his birthday, so we both got to give him birthday spanks. I kept thinking about all the sissies who call me for spanking phone sex and decided that each spank was also for each of you! When we finished spanking him we got to sign his new paddle, and I thanked him for letting me make his ass even hotter…to the touch, of course!!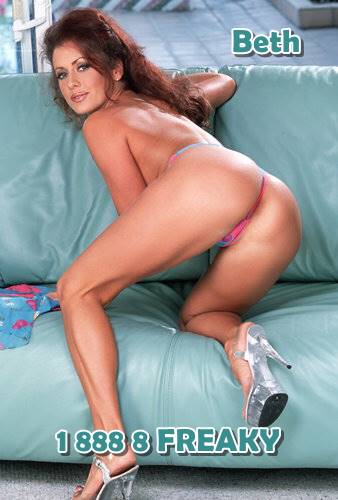 I just LOVE giving out good spankings, and she and I had plans to hit a different dungeon the following weekend. She was visiting from out of town so we were making the most of her visit. That night the plan was for her bottom to receive the spanking – and receive it she did! I used my hand, a crop, two different paddles, and a dragon tail. I posted pictures of her purple ass on my Twitter page if you don't believe me! Seriously, spanking phone sex is so much fun for me, but it's even more fun because I get to really do it and relive every real experience.
Hot ladies, sexy sissies, and even naughty cubs like having a cougar like me give them a spank, so I can't complain. I enjoy giving a spanking until my hand stings as much as your ass – if you want to hear about all of my spanking fun just call 1 888 8 FREAKY and ask for Miss Beth for spanking phone sex.
Follow me on Twitter