Well, of course I couldn't start working here without talking about my tits. Everyone talks about them, so why shouldn't I? I mean, they're mine, aren't they? So I will say that I give a wholehearted "Hell, yes!" to bit tit phone sex with you, because I enjoy talking about these mega melons!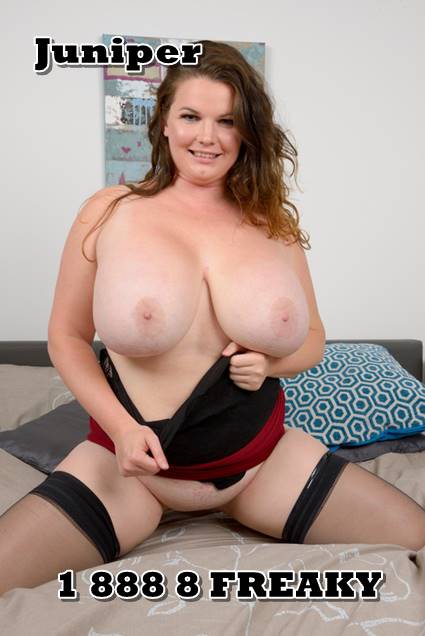 Are you a titty tugger? You know, do you tug your tater tot every time you catch a glimpse of some bangin' big boobies? It's okay sugar, I won't lie…my hand has wandered downtown more than once at the sight of some lovely milk jugs. Well, even better – since I had the girls enlarged, I've had a few moments when I've caught myself looking in the mirror with my hand in my panties. If you're into big tit phone sex, then you'll want to hear about what I did with my other hand when that happened. I'm sure you can imagine it, but I'll give you a hint: my big mamas were very much involved in that joyful session of va-jay-jay play! Mmmm….makes me want to start rubbing my nipple now, but I can't type that way.
Ok, so maybe I stopped for a few minutes to play and now I'm back. The thing is, I feel so sexy with this red hot rack that I get myself off all the time. The problem is it's still not enough! The bigger my boobs got, the bigger my appetite got. Or was it that the bigger my appetite got, the bigger I needed my boobs to be?
Fuck it. Who cares, honey? All you need to know is that my sexual desire and the size of my big ol' tiddies are in direct proportion with each other, so looking at my photo I bet you can imagine how wet I usually am. I also bet you're hard as a rock and imagining exactly how it would feel to slide that firm fuck stick right between them, so why don't you give me a call at 1 888 8 FREAKY – my big and beautiful bosoms and I will be waiting!