A plump piggy bank I can drain over and over? In this economy?! You're as rare as a steel penny, as if you didn't already know. Thankfully, financial domination phone sex is only one of my many kinky interests, since good swine is so hard to find. If you're a dirty beast in need of a washing, I can hose you down and leave you out to dry. I enjoy getting whatever I want from any man. It's not the money that turns me on. It's the power exchange. Money is power and when you give your money to me, you submit your power to me willingly – I own a piece of everything you've worked to become. I own a piece of your masculinity. A piece of your identity. In exchange for my time, my cunning, my incomparable sexiness. It's very unfair, don't you think?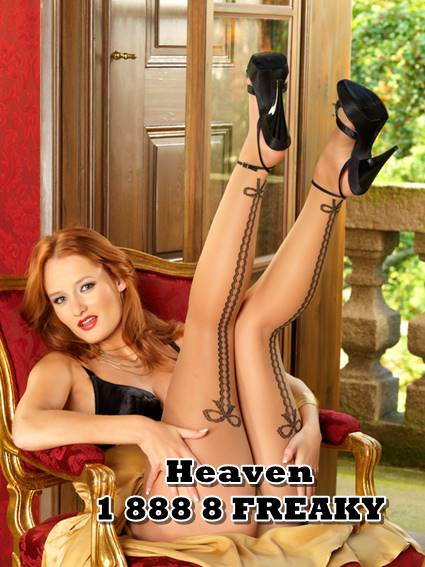 Exactly the point. Financial domination phone sex isn't "fair". I create games you couldn't possibly win, I move the goal post so you never quite stack up. If you reveal anything personal, I'll go out of my way to use it to my advantage. Sometimes the stakes are low, sometimes they're sky high – all that matters to me is that I win and you lose. Every time. My time is way too precious to spend it pretending to lose to the real loser. It just wouldn't make sense. Oh, and that part about your wife, your house, your car…none of that matters to me. You're here because you want to be. You want to see how far I'll go, how tightly I'll spin my manipulative web around you, how much of your power I want to possess. The thrill of knowing I might blow it all on a whim and you'll have to start the game all over again. Oops, you lose. When I say I want more, that's no time to resist.
1 888 8 FREAKY and ask for Heaven, if you dare.
sayyestoheaven.xo@gmail.com
Twitter: @heavencantwait0