Feeling exceptionally sinful today perhaps its the idea that your at home looking at porn instead of being at church. Sure your unable to attend worship right now but you made some deal with yourself to least do some online sermon but here you are looking for a nasty girl to dive into some blasphemous phone sex fantasy with.
Hi! How are you? My name is Raine and I am the girl you have been searching for!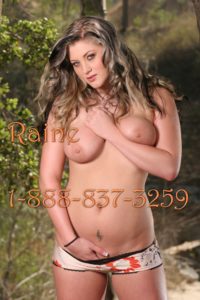 Never been one to adhere to conventional religious beliefs. Sure I stand by karmic rule of putting forth good energy and you will receive good energy. So everything I do is with a good mind set even when I am saying Fuck Jesus and Hail Satan. *smirk*
I suppose I could look like that good girl next door but you know there is that sinister streak to me. That look that even your mom would warn you I am no good but its that no good that excite you. Gets your cock twitching in your pants. Will have you going from good preacher boy to dancing naked in the forest under a full moon while chanting to the devil.
Ya that kind of fun.
So who is with me to have some amazing blasphemous phone sex fun today? Up for any role play from fucking in the church to calling out Satan's name while we do all sorts of naughty things. Probably best not to say them here for I wouldnt want to insult anyone who isnt as open minded as well you and I.
Just ask for Raine when you call 1-888-837-3259