Have you ever heard of sploshing phone sex? The answer might be no but that's ok I'm going to tell you all about it baby.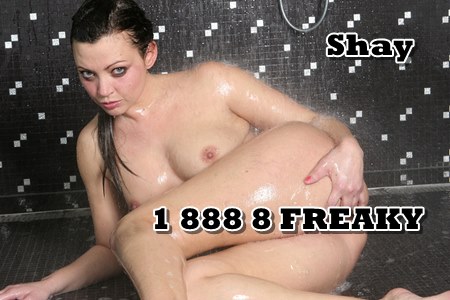 Splish splash splosh !!! Sploshing is when someone gets off and cums over messy food play. Sometimes food wrestling, laying in foods and even force-feeding, you name it's done. It's truly a hot fetish if you ask me. Sploshing does not always center around sex. Being aroused over a hot girl like myself even fully dressed covered in wet foods is sploshing. I guess its called wet and messy for a reason huh. But I might add who wouldn't want to see me covered in wet food while wearing a skin-tight dress?
You can use any kind of food for sploshing phone sex and if you want to have this kind of phone sex with me you will have to work with whatever i have in my fridge. Many love raw eggs but that is not happening I'm deathly allergic guys. Some things we could use are milk, peanut butter, real butter, ketchup, pie if I have any but I do always have pudding in the house. Once I saw a video with a girl covered in baked beans!! I think I would look very hot pouring milk over my tits and it running down between my legs. Or rubbing the Reese Peanut Butter I have here all over my titties. Would you like to lick it off me?
There was a sex guy not too long ago that was talking on a podcast about his ex-roommate who would use mustard and ketchup to jerk off with. Like he was using it instead of lube what was the other one my mind drew a blank….. oh ya Mayo. I would love to experience that just saying.
I also read online about sploshing where the woman sits in a cake or a pie That would be doable for me as long as it made you horny and you licked me clean of all the cake and frosting. I love creamy foods on my pussy personally. I love the texture of it. My pussy feels so good covered wet gooey food.
Want to try sploshing phone sex with me? Call me 1 888 8 FREAKY and ask for Shay!!!